Camp Store
The Texas A&M Soccer camp Store is available during all sessions. The store has T-shirts, jerseys, sweatshirts, caps, balls, and other Texas A&M Soccer items that are only available in this store.
OVERNIGHT CAMPS (Sessions 1, 2, 5, 6, 7 and 8):
The Camp store will have snacks available.
Pizzas can be pre-ordered each day for a delivery after the evening session.
CAMP BANK: (Available for the Overnight sessions)


This year at soccer camp we will once again offer a "camp bank."
The Camp bank is a courtesy offered to allow campers to have funds available to spend in the camp store without having to worry about cash handing (There is a $5.00 set-up fee).
A Camp Bank Limit can be established prior to camp. As the camper makes purchases in the camp store (candy, drinks, snacks, t-shirts, pizzas, etc.) we will keep track of their expenses and we will NOT let them spend more than the limit set by their parents.
At the end of the camp week, we will total up the charges and we will charge the account ONLY for the amount spent.
A list of purchases made by your camper can be requested by emailing the soccer camp ([email protected]).
SET-UP PROCEDURE:
Setting up the camp bank will be done completely online. We have partnered with the Active Network to handle the processing of the camp bank.

NEW CAMP BANK SET-UPS WILL SHUT DOWN TWO DAYS PRIOR TO CAMP. MAKE SURE TO SIGN-UP PRIOR TO THIS DEADLINE
Log into account [www.AggieSoccerCamp.com]; Click "Check Reservation Status"]
Once in account, select "Buy" and add the bank limit you would like to establish

Check-out
TEXAS A&M SOCCER CAMP "DELUXE STARTER PACK":(SOLD OUT)
Cost: $75 (Tax and Shipping included)
Ships June 1st for Orders by May 10th

The Deluxe Starter pack includes the following:
Texas A&M Soccer Branded Beach Towel

Texas A&M Soccer Branded Pillowcase

Deluxe Aggie Soccer Branded Water Bottle


Special Aggie Soccer Camp "Cool Rag"
TEXAS A&M SOCCER SCARF:
This Texas A&M Soccer Scarf is now available for Soccer Campers. This scarf was designed to resemble the Aggies official Maroon jersey - You may purchase through the registration system. The scarf will be mailed directly to your home.
NOW AVAILABLE- TEXAS A&M SOCCER 3' x 5' Flag:
The Texas A&M SoccerFlag is now available for Soccer Campers. You may purchase yours through the regsitration system. The Flag will be mailed directly to your home.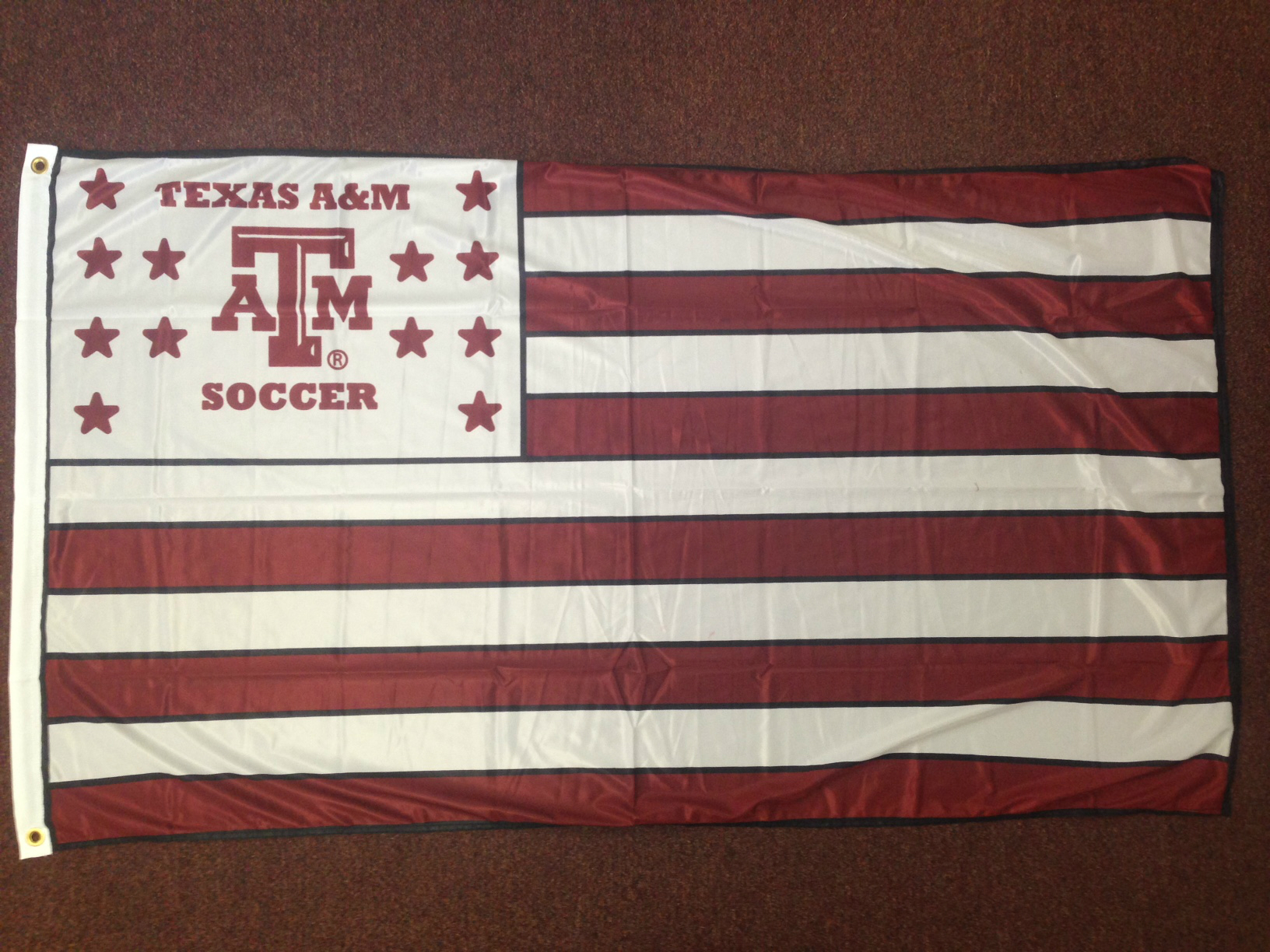 RETURN POLICY FOR PREORDERED ITEMS (Flag, Scarf, Jersey):
You may return the item for a refund if the item still has tags and has not been washed.

Contact Us
Texas A&M Soccer Camp
1228 Tamu

College Station, TX 77843

Phone: 979-862-3369