Day Camp
The Texas A&M Soccer Day Camp
Dates: We won't have a soccer day camp this summer

Camps are open on a first-come, first-serve basis to any individual who satisfies the age, grade level and/or gender requirements set forth in the registration materials.

DESCRIPTION – The Texas A&M Soccer day camp is the ultimate Fun Soccer Experience for the young player (ages 5-10). All of the sessions are administered by the Texas A&M soccer coaches and are designed to be fun and educational for the players who are just starting to discover and fall in love with the sport. Campers enjoy a 7-1 camper to staff ratio and get to play at the Texas A&M facilities (some of the best facilities in the world!). Medical staff, Water and Gatorade is provided at the field for all participants.
THIS IS CAMP FUN!!!!!!
Advanced players should consider our 3-day overnight camp.
Typical Schedule:
Monday – 9-10:30am Training Session and games
Tuesday – 9-10:30am Training Session and games
Wednesday - 9-10:30am Training Session and games
Thursday - 9-10:30am Training Session and games
Friday – 9-10:30am Training session, games, and Closing Ceremony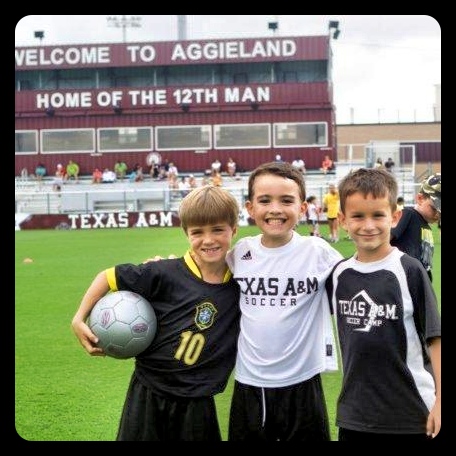 Contact Us
Texas A&M Soccer Camp
1228 Tamu

College Station, TX 77843

Phone: 979-862-3369