Camp Coaches
Texas A&M Camp Directors Make the Difference
While Texas A&M is one of America's most successful programs, the Aggies do not measure success by wins and losses alone, but in the style and quality of the performance of everyone involved. Texas A&M soccer players are renowned for their extremely high level of sophistication, speed of play and game savvy, due in large part to the exceptional coaching received in daily training.
G. Guerrieri, Camp Director, Head Soccer Coach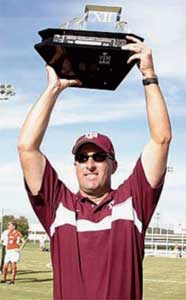 Coach "G" is the architect and leading force behind the national success of Texas A&M Soccer. He applies the same type of attention to detail of guiding the Aggies as he does in orchestrating each Texas A&M soccer camper's experience in Aggieland. In his 30 years at Texas A&M, he has turned the Aggie program into an Elite National Power, winning 14 Conference Championships and amassing an amazing 500+ wins versus America's best teams. Texas A&M is the only program in the conference and surrounding region to be consistently ranked in the National Top-10 since 1995 and is the only program to have earned selection into the NCAA Championship Tournament for 25 consecutive seasons. Guerrieri has been selected the Big 12 Conference Coach of the Year twice and is a five-time collegiate Coach of the Year. He holds a degree in education, a USSF "A" license, an NSCAA Advanced National Diploma, and has vast experience with both the National and Regional youth ODP programs.
Curt Magnuson, Assistant Camp Director, Director of Operations
Curt has been one of the lead Directors of the Aggie Soccer Camp since 1995. During his time, he has grown the Aggie Soccer camp to be one of the lar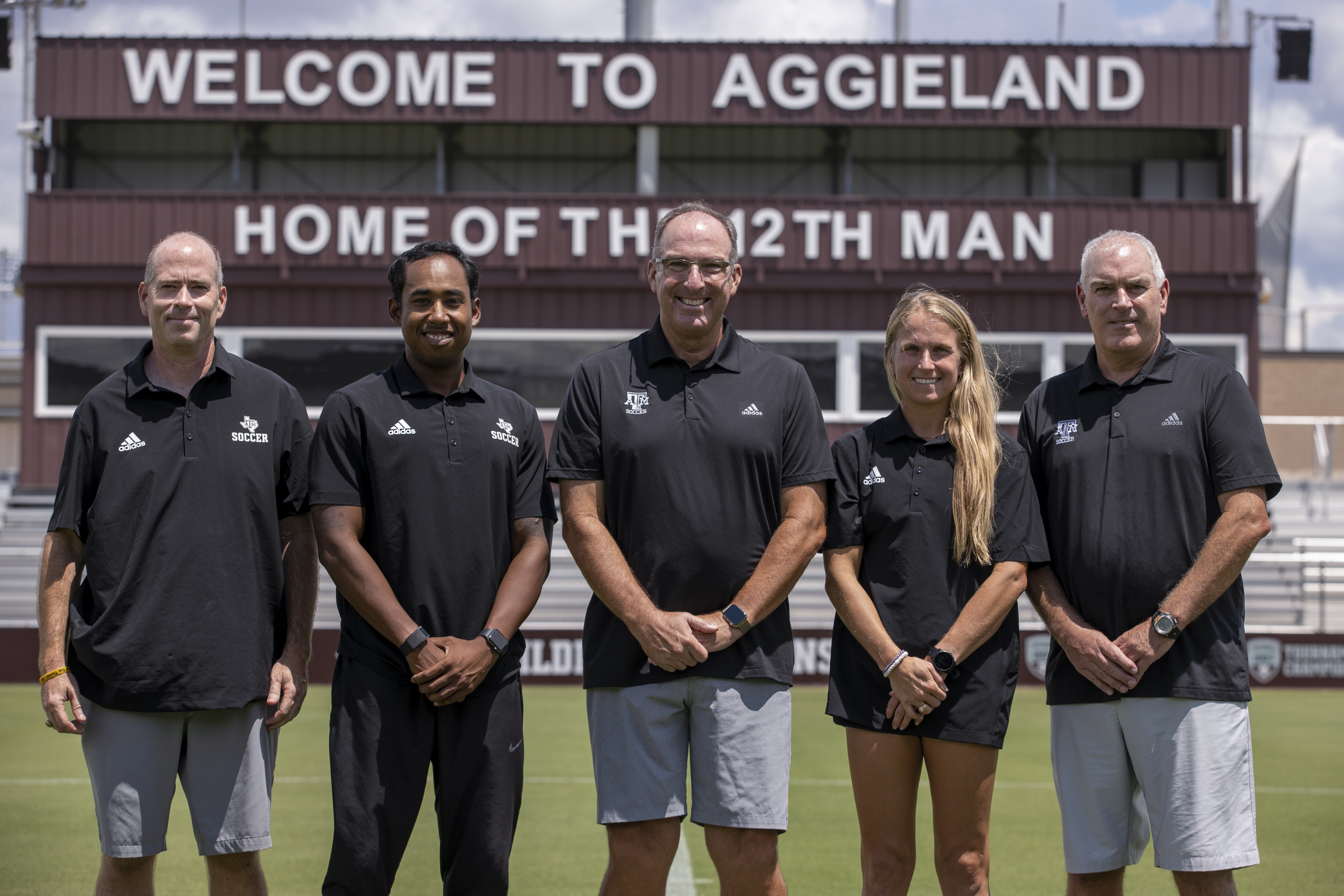 gest collegiate soccer camps in the country. In his 28 years of helping direct the Aggie Soccer camp, he has formed a reputation as a leader in the space across the university and amoungst other Top College Programs. He has orchestrated an experience that has become a "bucket list" item for most players in the State. He holds a USSF 'C' License, a USC (NSCAA) National License and has been a coach in the ODP program
.
Phil Stephenson, Assistant Camp Director, Associate Head Coach
Texas A&M soccer players and campers are blessed to train under the direction of one of America's most gifted and innovative coaching staffs. Phil Stephenson are living proof that the Aggie community is family oriented. Phil Stephenson starts his twenty-second year as assistant director of the Texas A&M Soccer Camp, bringing with him experience from collegiate, youth, and Olympic development successes. Prior to his arrival in Aggieland, the Hornsea, England, native led Methodist College to the 1995 NCAA Division III national championship game and was named the regional and conference coach of the year. As a player, he was an All-American at Lock Haven University.
Alyssa Mautz, Assistant Camp Director, Assistant Coach
Mautz was a star for the Aggies from 2008-10 after transferring from Saint Louis University. Her playing days included international stints with US Soccer national teams, winning the 2008 Women's U20 World Cup in Chile and spending time with the US Soccer U23 squad. Mautz had four stints playing professionally overseas, including nine matches with FK Zorkiy Krasnogorsk in Russia, as well as Australian campaigns with Perth Glory (two seasons) and Adelaide United (one season). The O'Fallon, Missouri, native dipped her toes in the coaching profession when she served as a student assistant for the Aggies' 2014 College Cup campaign. Texas A&M went 22-3-2 that season, earning the SEC regular-season and tournament crowns. She completed her bachelor's degree for health & kinesiology in 2015.
Ahmad Brown, Assistant Camp Director, Assistant Coach
Renowned performance analyst Ahmad Brown joined the Texas A&M soccer staff as volunteer assistant coach in May 2022. Brown assumes the volunteer assistant coach position fresh off a one-year stint as performance analyst with the women's soccer team at Florida State. While on the staff, the Seminoles won the NCAA Division I national title and claimed the ACC championship in 2021. Brown also spent three seasons as performance analyst with the Florida Gators. He served a concurrent role as an assistant coach with United Soccer Alliance, a WPSL team based out of Fleming Island, Florida, from 2019-22. He also worked as technical director with Gainesville Soccer Alliance from 2016-20.
Camp Coaches
Texas A&M camp coaches give players outstanding instruction and insight into what it takes to succeed in the most competitive environments and are exposed to many of the best male and female college coaches in America. The Texas A&M Soccer Camp Coaching Staff is made up of talented Professional, NCAA, NAIA, NJCAA, Olympic Development, and High School coaches and assisted by many of A&M's current varsity players, which creates a challenging, educational environment for all our campers. Staff members are challenged to develop the technical and tactical skills of their students through exciting, fun, and demanding training sessions.
Here is a partial list of past and present Texas A&M Soccer Camp Staff Coaches:
Wally Crittenden – Goalkeeper Camp Director - Head coach SFA
Rich Hartis -Goalkeeping Coach - Leeds United FC (England)
Billy Stewart – Ireland U21 Goalkeeper coach, Former Director of Academy Goalkeeping for Liverpool FC (England)
JR Lee -USA National Staff Coach, head coach Texans SC
Marcus Wood -head women's coach Hardin-Simmons University
Lance Key – head women's coach Trinity University
Mike Alderson - former head women's coach Texas Lutheran University
Mitch Whellens – Academy Coach – Sunderland FC (England)
Eddie Salazar -head coach Texas Lutheran University
Kevin Farley - head men's coach Iowa Lakes College
Tom Brown - head coach Sam Houston State University
Scooter Savoi - fmr head coach McNeese State University
Blake Hornbuckle – head coach SE Louisiana University
Tracy Cross - head coach NW Missouri State University
John McGlasson – head coach Royal Air Force (England)
Elvis Takow – fmr Asst Coach Texas A&M
Paul Hayes -head men's coach Schreiner University
Matt Smith -coach Chandler-Gilbert CC
Troy Edwards -head women's coach Aurora University
Brandon Bonilla – asst coach University of Houston
Topper Cogan -asst. coach Idaho State University
Jesse Larimer -Maricopa CC
Roland Sikinger -GK coach Cy-Fair Dynamos SC
Colin Clarke – fmr asst men's coach University of Tulsa
Mark Wait – asst men's coach Old Dominion University
John Jackson -head coach Copperas Cove HS
Brandt Bird -head coach Pleasanton High School
Aaron Metzger - Classics Elite Soccer Club
Jacob Santos - Texans and Challenge SC
John Galas – asst coach FC Tuscon (USL)
Rich Elder -head coach Klein Collins HS
Jay Fitzgerald - GK Director Dallas Texans SC
Ray Martinez -head coach Keller Central HS
Kati Jo Spisak – pro player & asst coach Washington Freedom (WPS)
Michelle Royal Clemmenson – fmr asst coach TCU
Kevin Dempsey - asst coach Loyola Univ (Maryland)
Nicky Adams – head coach Rice University
Josh Gibbs -head coach Texas Wesleyan University
Allison Martino – fmr asst coach Texas A&M
Greg Ashton -head coach Davidson University
Jamie Frias - asst coach University of Virginia
Doug Moore -fmr National Team coach New Zealand
Mike Cook -head coach Central Oklahoma University
Jim Schneiderhahn - asst coach Purdue University
Pete Collins -National staff coach England FA
David Simeone - USA National Staff coach
Paul McGinley - head coach Trinity University
Sean Worley - head coach Richland College
Neil Ellis - Director of Coaching South Texas Youth Soccer
Glen Tourville – fmr asst coach The Ohio State University
Tammy DeCesare - fmr head coach Western Carolina University
Brian Stock -head coach Southern Utah University
Daniel Brizard - fmr assistant coach LSU
Drew Fitzgerald - head coach McNeese State University
Chris Kouns - head coach Gwinnett College
Munga Eketebi - Broward College
Bruce Erickson - Wayne State
Brad Bankhead - Mary Hardin Baylor
Kurt Albrecht - Illinios College
Lance Key - Univ of Texas
Grey Massey - East Central CC (MS))
Scott Phipps - Alderson Broaddus
Kathryn Saunders - Texas Southern
Mary Grace Schmidt - Pepperdine
Andrea Allen - Taylor Univ
Derek Faulkner - Cal State LA
Scott Smith - Illinois College
Lauren Frazier - Texas State
Nick Morrison - Schreiner
Nathan Kogut - Glenville State
Keaton Henson - Southern Miss
Sylvester Jallah - UT Tyler
Camille Koski - Rice
Amel Muhamedagic - Central Oklahoma
Stephen Salas-Alto - Abilene Christian
Neal Ozman - Idaho State
Megan Snelling - Univ of Louisian Monroe
Lexi Stinson - LeTourneau
Garrett McLaughlin - Lipscomb
Jamie Meshew - St Edwards
Ben Parman - New Mexico State
Lauren Sestak - Kennesaw State
Kat Conner -head coach Texas State University
Stacy Lamb - fmr head coach University of Louisiana Monroe
Butch Lauffer –US Soccer Staff Coach, head coach West Texas A&M
Melissa Heinz - fmr head coach Winthrop University
Tony Tommasi -head coach Univ of Illinois - Chicago women
Greg Johnson -fmr head coach South Mountain College
Robin Confer - head coach University of North Florida
Don Gregory -head coach Southwestern University
Brian Copham -head coach Jacksonville University
Nicole Nelson – asst coach Southern Methodist University
Dan Coker -asst coach Midwestern State University
Tim Santoro - head coach North Carolina State University
Colin Carmichael -head coach Oklahoma State University
Karen Hancock –assoc head coach Oklahoma State University
Amy Edwards –head coach Gonzaga University
David Bucciero -asst coach Boston University
Chris Leshinsky -fmr head coach University of Dubuque
John Sorlie -asst coach Missouri State University
Stuart Fitzsimmons -Texas Rush Soccer Club
Martha Fancher - Head Coach Tomball HS

Contact Us
Texas A&M Soccer Camp
1228 Tamu

College Station, TX 77843

Phone: 979-862-3369